News
The Auxiliary will be holding their next monthly meeting on Tuesday, February 13th, 2018, from 9:30 to 11 a.m. at Milford Regional Medical Center in Conference Room A on the first floor.
Meetings are held on the second Tuesday of the month from September to June. Both men and women are encouraged to consider joining this successful organization. Plan to attend a meeting soon!
If you would like more information about the Auxiliary, please call 508-422-2099.
Mission
Our mission is to provide the Medical Center, its patients and community with support through fundraising efforts.  Since its founding, the Auxiliary has raised close to $1 million for Milford Regional's expansion and renovation projects – making it a lead donor to all of the Medical Center's capital campaigns.
Become a member of a very successful organization that is an active part of our community and our regional hospital serving a region of 20-plus towns. Learn how the Auxiliary supports the hospital, its history, accomplishments and future events.
The Auxiliary conducts many fundraisers (including the Taste of the Towns) throughout the year which provides support to Milford Regional Medical Center.  YOU could be part of the exciting future of the MRMC Auxiliary.  All funds raised directly supports building funds, departments throughout the hospital, and scholarships. The public is welcome to attend all fundraising events held at the hospital.
For more information, call 508-422-2099.
Fundraising
The Milford Regional Medical Center Auxiliary is pleased to announce the following sales.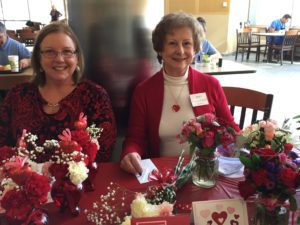 ∼  Valentine's Day  Raffle
A Valentine's Day raffle will be held which includes a $50 gift certificate for "3" Restaurant in Franklin, a box of chocolates and a bottle of wine!
Milford Regional Medical Center's Atria Café
Tuesday, February 6th

Wednesday, February 7th

Thursday, February 8th

Friday, February 9th

Saturday, February 10th

Monday, February 12th

Tuesday, February 13th

Wednesday, February 14th

11:15 am to 1:30 pm

11:15 am to 1:30 pm and 3:30pm – 6:30pm

11:15 am to 1:30 pm

11:15 am to 1:30 pm

Noon to 2:00pm

11:15 am to 1:30 pm

11:15 am to 1:30 pm and 4:30pm – 6:30pm

11:15 am to 1:30 pm
 Drawing to take place Wednesday, February 14th at 1:30pm, winner need not be present to win.
 ∼  Valentine's Day Flower Sale
Say Happy Valentine's Day to someone special with a beautiful fresh flowers arranged in vases!  Plan on swinging by this popular sale to pick up a beautiful arrangement and support the MRMC Auxiliary.
Wednesday, February 14th
Milford Regional Medical Center, Atrium Café
11:00am till 1:30pm
∼  I Love My Clogs Sale
The Auxiliary is pleased to announce that I Love My Clogs will be return.   Many fabulous items will be available including Comfort Clogs by Dansko, Sanita, Klogs, Alegria, OOFOS, and L'Artistie! Master Card, Discover and Visa are accepted.
Wednesday, February 21st
Milford Regional Medical Center, Atrium Café
7:00am till 4:00pm
Scholarship Awards
The Milford Regional Auxiliary awards a scholarship to graduating high school seniors who volunteer at the hospital. The scholarship is open to student volunteers who plan to pursue a career in the healthcare field. This year's recipients are Daniel Mendoza and Allison Buckenmaier. Daniel and Allison have each received a $1,000 scholarship.
New Members Welcome!
Both men and women are welcome to join this robust group of dedicated volunteers! Whether you have a lot of time or just a little, you can be part of the MRMC Auxiliary legacy. Feel free to try out a meeting and see what you think before joining.
Meetings are held the second Tuesday of each month at Milford Regional Medical Center from 9:30-11:00 a.m., with two evening meetings each year. There are no meetings in July or August, although fundraising efforts continue. For questions or more information call 508-422-2099. If you are interested in joining, click here.
Pay Auxiliary Dues
Auxiliary Success Stories
Proceeds from sales and events go a long way to help ensure the best patient care possible at all Milford Regional affiliates. The Auxiliary is uniquely positioned to fund helpful equipment or staff training that would otherwise be too expensive to purchase through normal operating budgets, but not expensive enough to qualify for state or federal grants. Departments determine their need, based on patient feedback and ideas from staff.
Examples of Items Funded by MRMC Auxiliary
Wireless Access and iPads for PT/OT patients
Blanket Warmers for Emergency Department
Bariatric Wheelchair
Recumbant Exercise Bike for Cardiac Rehab
Wall Art in Cardio Vascular testing area
Graston Training and other Education for Staff
Titmus Machine for Occupational Health
Air Transfer Unit & Mavig Single Pilot Lower Body Protector for Cardiac Catheter Lab
New Carpet in Radiology
Gifts for Volunteers
Modern television remotes for each patient
Continuing education for staff/employees
Educational sponsorships for high school graduates
The Auxiliary will continue to fund projects like these, in addition to generously designating funds to Milford Regional's Campaign for Excellence to benefit the new building project.